C.I.E Majiks Finders Keepers (Tane) - Poetrys Gingerette (Nettan)
Nettans valpar föddes 27 december 2011 3 tikar och 2 hanar.

The litter from C.I.E Majiks Finders Keepers x Poetry´s Gingerette
was born 27th of december.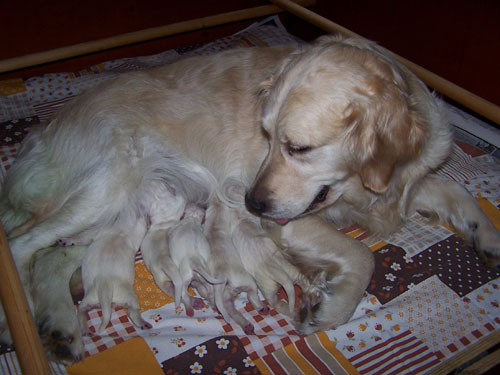 2 dagar / 2 days

tikvalp 2 veckor / Puppiebitch 2 weeks

tikvalp 3 veckor / Puppiebitch 3 weeks
Valparna 7 veckor
Både Tane och Nettan har A-höfter och är fria på armbågarna. Nettan är fri golden PRA1
Poetry´s Gingerette har cert och åtskilliga CK:n från utställning. Hon är jakttränad och en duktig apportör.
At the end of october Poetry´s Gingerette will be mated to C.I.E. Majik Finders Keepers. Both parents have got HD A, ED 0.
Gingerette is also clear PRA1. Gingerette has got one CC and several CK at shows. She loves picking up and the training in the fields.