_____________________________________________________________________
Poetry´s Secret of Widerness, "Vilda", har valpar födda 26 dec 2016.
Pappa till valparna är SEU(u)CH Combine Nintendo, "Tino". Tino har A-höfter, Vilda har B-höfter och de har båda ua på armbågar och ögon.
Båda är också fria PRA I och PRA II.
Tino är Svensk Utställningschampion och har 2:a-pris i nkl på jaktprov. Vilda har excellent från utställning och tränas för start på jaktprov.
Jag förväntar mig en kull med stor arbetslust och valpar lämpliga för dig som vill träna din hund målmedvetet.
Valparna beräknas leveransklara i mitten av februari 2017
Poetry´s Secret of Wilderness "Vilda", and SEU(u)CH Combine Nintendo, "Tino" have puppies.
Tino has HD A, Vilda HD B, both ED 0 and eyes clear.
Both of them are also clear PRA I and PRA II.
The puppies will be ready to leave for their new homes in February 2017.
| | |
| --- | --- |
| | |
| SEU(u)CH Combine Nintendo | Poetry´s Secret of Wilderness |
Valparna 4 veckor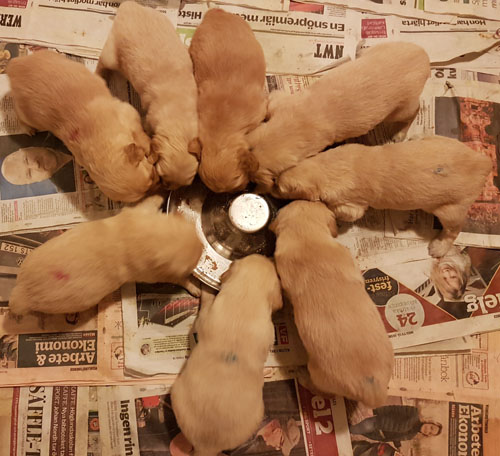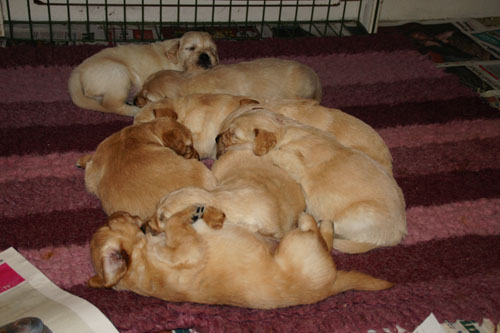 ----------------------------------------------------------------
SEU(u)CH Combine
Nintendo

Int Ch Taram du Bois de la Rayère

Multi Ch.Beeangee Jumping Jack Flash

Alibren Mon Chéri

SU(u)Ch Combine
Flames of Fantasy

Stanroph Sandboy

SV-Combine Daylight

Poetry´s Secret of
Wilderness
SE VCH Attigårdens
Golden Icelander

TJH LPI Rckdove's Toffy Gentlemen

LPI LPII Höghedens Kayenne

Poetry´s Secret Passion

SJCH NJCH LPI
Stjärnglimtens Epson

Poetry's Moonlight Secrecy
_____________________________________________________________________
Nyfiken på våra nuvarande/framtida planer eller om du har frågor om rasen tveka inte att kontakta: